Prosperous businesses around the nation know sponsoring big-name sports is a profitable endeavor. Great companies cash in on target audiences who watch the games and buy the advertised products at events. It's the products viewers repeatedly see that they remember most. Marketing campaigns reap millions of dollars for large scale advertising and the big dogs score big. But what about sponsoring a semi-pro soccer team? No matter what scale it is, your sponsorship will always win over those who don't.
That's why your business needs to join the team.
Sponsoring Bellevue's Semi-Pro Soccer team not only empowers the local youth but it sets your business apart from the others by showing your dedication and commitment to the community. That's a big deal to the people who are invested in the games and go to the games.
Semi-Pro Soccer is about helping young people cultivate a talent that will enhance their future and lives. These teams teach young people several life skills, from team-building and problem-solving to business management and, of course, the skill of playing pro soccer. It's about giving these players a chance to live up to their potential, giving them the skills to be great adults and professional players. The Semi-Pro Soccer team/ Bellevue Athletic FC is about community and providing a club, team, and family atmosphere that supports these great young players by allowing them to be their best. Why not support that? 
Semi-Professional Soccer teams are made up of players who have the best chances at becoming professional soccer players. When you support these talented young competitors, you are an integral part of their future and the future of great sport heros.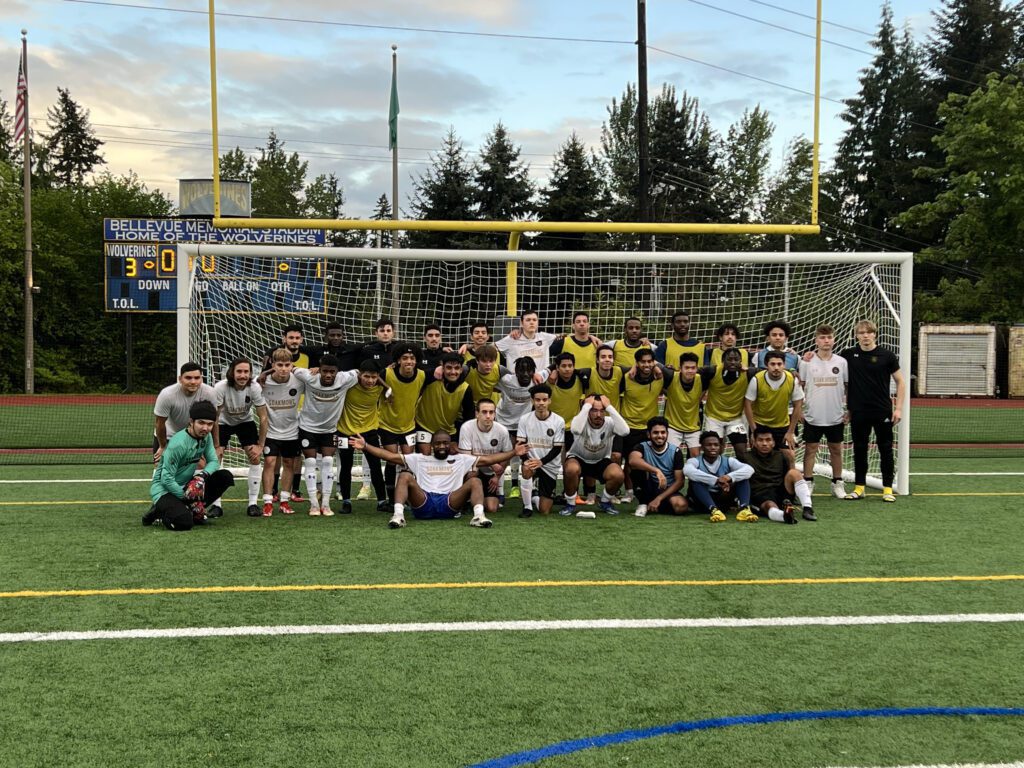 Your sponsorship to the Bellevue Athletic FC and our local semi-professional soccer team ensures a high level of exposure to your business in more ways than one. First, we'll feature your business logo on our website with a link that leads customers directly to your website. This kind of marketing builds interest in your business, provides brand recognition, and provides easy access for customers to find you faster!
Social Media Advertising is the most effective way to sell your products and services than any other method of publicity. Social media has become an essential part of any business strategy. With over 90% of marketers indicating that their social marketing efforts have generated more exposure for their businesses, you could say the trick is working.
Even with our lowest level of sponsorship, you are paying a fraction of the cost for social media than you would pay with an advertising agency but getting the same amount of highly profitable exposure. Social media helps you get your business noticed, and gives you an opportunity to meet new people and connect with potential customers in a way that didn't exist when traditional marketing was king. 
Social media is a great way to reach out to a specific audience. You can actually target people based on age, gender, location, interests and hobbies. 
Contact us to find out more information about how sponsorship can help with your social media efforts.
Networking at our games is a valuable asset for local Bellevue Businesses.
If you are a local Bellevue business owner, you already know how absolutely essential it is to get out and network with other businesses and the community. The community that attends our games are the same people you want to do business with. They are family oriented, have values and care about those around them.
Networking is an interactive process that can help you build new relationships, find good employees, generate ideas, and make social contacts. It's a great way to exchange information and identify common interests with other business people in your industry and community.
Networking helps you to build relationships with your customers and clients. Your customers will feel more comfortable interacting with you, trusting that they can share feedback or any other concerns regarding a product or service. More people will make appointments with you while you're in front of them. Best of all, once they see you and come to know you, they will trust you. Once you build trust with them, you have clients and customers for life. The one thing a valued customer is sure to do is refer you to their friends and family.
All sponsors receive season ticket packets so that you always have an easy incentive to go to the games!
Four Levels of Sponsorship
Bronze Level
Website link on our website
Silver Level
Company logo on training jersey

Website link on our website
Gold Level
Company logo on back or front training jersey

Website link on our website

Logo on tents used at all events
Platinum Level
Company logo: Your Choice, back of primary jersey (or) front or back of training jersey

Website link on our website

Logo on tents used at all events
We welcome you to join our team. With your continued support, we'll continue to discover the great talent of Seattle and help cultivate their dreams to play professional soccer.
No matter what level you decide to sponsor us with, we thank you for your support.