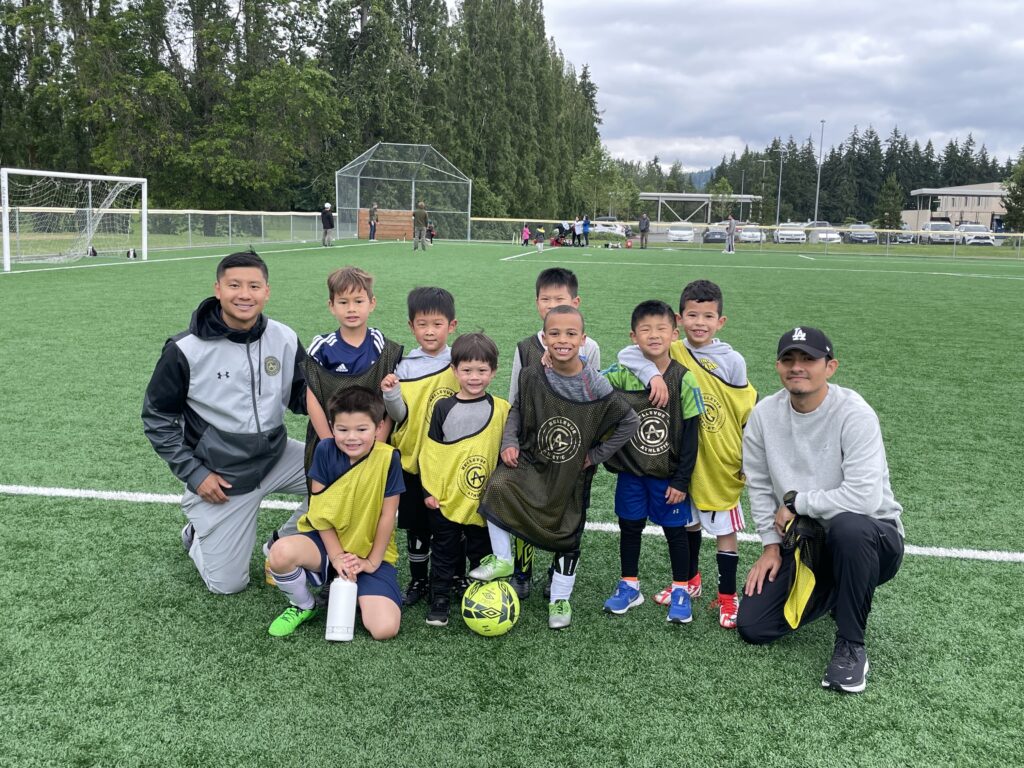 Hey families,
If your son is between 5 and 7, we have some exciting news for you.
We are excited to announce that we will be offering our 12-Week Session Boys Soccer Junior Academy starting June 22nd through September 7th. The program will provide weekly training for your son in a fun and engaging environment with other boys his age. This is an excellent opportunity for your child to build confidence, make friends and enjoy playing soccer, as well as a chance for you to meet other parents who share your passion for sports!
The program will be held at Tillicum Middle School (Modified Field next to the basketball court) on Wednesday evenings from 6:15 PM – 7:15 PM & Chinook and Tillicum Saturdays from 10:30 AM -11:30 AM. There are 20 spots available so register today before they're all gone!
The cost is $350 per player, gear to be purchased separately for approximately $150-175 shirt/shorts/socks and training jacket/pants, and a ball (a 25% sibling discount can be applied). Scholarships will be considered on an individual need basis.
Program Background:
Coach Rudy Lawrence and Coach Tao Shen felt a lack of quality programs for young players. This inspired them to establish an organized environment for our children to thrive. We believe that learning the fundamentals of soccer while fostering age-appropriate behaviors can help our sons excel in life
At the BAFC Junior Boys Academy, we believe that soccer is a collaborative sport that helps children develop many essential life skills. These include:
Passion. If you want to reach your goals, it helps to care a lot about what you're doing.

Optimism. The biggest successes often start as fantastical goals.

Persistence. Successful people are persistent! They know how to keep going when things get tough and never give up!

Creativity. It's easy to be creative when you're having fun! That's why we ensure our training is filled with fun games and activities that will help your child discover their creativity in the world of soccer!

Self-Discipline: Self-discipline means focusing on the task at hand without being distracted by other things around them (like their friends). We'll teach your child how important this is not just on the field but off it too!

A Desire to Improve: You can't improve if you don't know what needs improving! At BAFC Junior Boys Academy, we'll show your child how
Coaches Profile
Tao Shen
Coach Tao Shen is the Director of Operation at United Soccer Coaches and a USSF C License Coach. He was previously the head coach at Trinity Lutheran College and Bellevue College, as well as head coach for Snohomish Skyhawks, a semi-professional team.
He has experience working with many local premier youth clubs, including academy teams, futsal teams, camps, and team settings. He believes that development for each player is different, and proper training/environment is key to success.
Coach Tao is married to his beautiful wife, Emerisse. They have two children: Izzy (9) and Evan (5).
Rudy Lawrence
Rudy Lawrence is a USSF A License Coach and former assistant coach at Duke University.
A walk-on his freshman season with the Big Red, Rudy quickly earned a starting role as a sophomore in 1997 and rose to a leadership role in his senior season. During his career at Cornell, Rudy played in 43 games, scoring four goals and registering two assists for 10 points. Both of his tallies in 1999 were game-winners for the Big Red as it finished the season 11-6 and 5-2 in Ivy League play. In Rudy's three years as a starter, Cornell went 27-20.
Rudy earned a bachelor's degree in mechanical engineering in 2000 and a master of Civil Engineering degree from Cornell in 2001. He served as a graduate assistant for the Big Red while pursuing his master's degree.
Rudy is married and has four sons.